Testimonials
5-7 Chatsbury Street, Goulburn
We chose Elders Real Estate to sell our investment property on an established trusting relationship.
Their known professionalism and business reputation confirmed our decision.
Ray and Kylie were passionate about providing the best possible result for us and we were kept very well informed during the whole process.
This was the first property we have sold via Auction.
We would recommend Elders Real Estate because we found them to be a dedicated and experienced team who made the whole process easy for us.
Kylie and Ray took away any uncertainty we may have had and delivered "the goods" on sale day.
Auctioneer David called a great Auction. Fantastic team, thank you.
Andy & Camilla Cartwright


4 Bryant Street, Goulburn

We chose Elders Real Estate Goulburn for staff, particularly Kylie Brooker and for the reputations and results they achieve. Our experience dealing with Elders was excellent. We were kept up to date at all stages of the process and emailed weekly progress reports.
Ray and Kylie were always available to take buyers through the property and for us to talk to.
Ray and Kylie met with us prior to Auction to discuss the process and answer all of our questions regarding the Auction.
We would recommend Elders for the customer service they provided, ease to deal with, their professionalism and results. At all times we felt they were working for us the vendor, not the purchaser which is not always the case with other agents.
Matt & Marita Flemming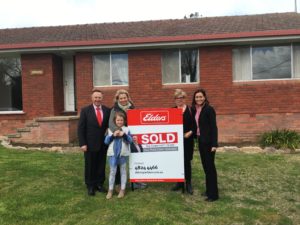 124 Verner Street, Goulburn

"We chose Ray from Elders Real Estate Goulburn to sell our home due to a previous association.
It all seemed an easy process and we were kept well informed at all times throughout.
The Auction was fantastic with an excellent result
We would certainly recommend Elders Goulburn particularly for their professionalism.
We had our eyes on another property with Ray and our sales campaign bought several buyers together on the day that competed on our home."
Ben and Lyn Andersson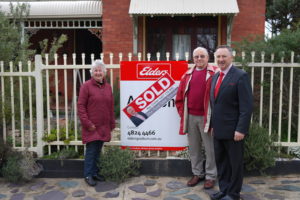 239 Middle Arm Road, Towrang

"As an existing Elders Rural Client we chose the Elders Real Estate team on reputation.
The Marketing program was very comprehensive and generated buyer interest from Sydney, Canberra and areas throughout NSW as well as our local area. Persistence from our agents Ray and Louise paid off with an excellent result achieved.
We certainly recommend the Elders Real Estate team to vendors looking to achieve the best results when selling their property"
Rob and Jillian Small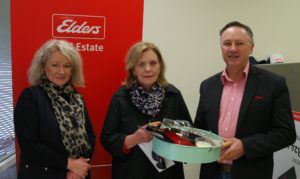 98 Towrang Road, Towrang
I chose Elders Real Estate because of their excellent reputation and market knowledge. My sale was an outstanding success and both David and Kylie were a pleasure to deal with.
The result, particularly the price, was way beyond my expectation. The marketing plan and sale structure was delivered very professionally. A will certainly be highly recommending David and Kylie to any vendor considering selling as they delivered an exceptionally high standard.

Dale Lake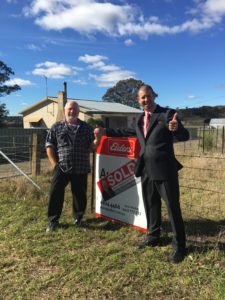 Dale Lake & David Medina – Towrang

62 Deccan Street, Goulburn
Mr and Mrs Longe were very happy vendors when David Medina sold their home in Deccan Street for well above what they expected their property to sell for. The quick sale of Mr & Mrs Longe's property made their plans to move closer to their children a reality in a much shorter time frame than they had hoped for. The buyer Mrs Beevors, now has peace of mind having moved into the home and settled for the long term, fitting in nicely with her plans for the future.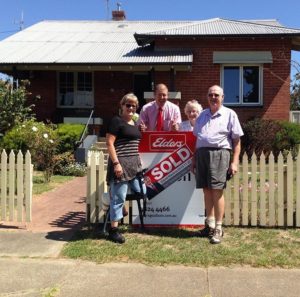 Ms Beevors, David Medina, Mrs Longe & Mr Longe
7 Kialla Street, Crookwell
Local and hassle free
I chose Elders as they are my local agents and Paul McIntosh was great. His initial information was easy to understand and all the details were set out with no pressure. The decision was left for me to determine how my property was to be sold.
Paul came with a great advertising plan and organised well co-ordinated inspections, all the while keeping me well informed. Working with Paul was an easy, hassle free experience and I would recommend him to anyone.

Carolyn Cummins
1433 Towrang Road, Greenwich Park
We picked Louise and Paul from Elders Real Estate for their professional approach and local  knowledge of our area in Towrang. They ran a great, well informed campaign that got our property sold at auction for a very satisfying result.
Thanks Louise and Paul for a job well done.

John and Cheryl Tiffney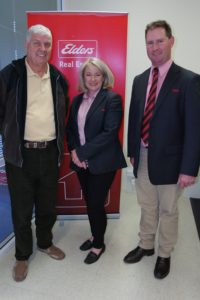 John Tiffney with Louise Elliott and Paul McIntosh


"Belara" 2063 Towrang Road, Greenwich Park
'Thank you to David, Kylie & the team for an outstanding result, this was our first time being a vendor, we were unsure of what to expect however David, Kylie & the team were informative, professional, always easy to contact & their attention to  our needs plus a clear strategy led to the outstanding sale result we achieved. We chose the Elders Real Estate Team due to other outstanding results in the area & would happily refer them to anyone thinking of selling their home".
Anthony & Sharon Collon

139 St Clair Road, Lake Bathurst
We chose Elders Goulburn initially because of their Sydney marketing presence. They also recently achieved a very good neighbouring sale. Our marketing campaign was a rewarding experience. We found Paul and Ray professional with excellent attention to detail, superior product knowledge and they stayed in regular contact right throughout the program.
We were very satisfied with their team approach and our sale price was testimony to all of the above. We recommend Elders highly for any seller wanting to achieve the best results.

62 Dalley Street, Goulburn
We chose Elders to sell our home because of their community reputation. Ray and Louise were very professional at all times and kept us well informed throughout the marketing process. Their tireless efforts are the reason we got the fantastic price outcome we wanted.
Always with our best interests in mind we are very happy to recommend Ray and Louise to any seller who wants to be a happy customer.